Well got a bit of sewing done this week. First I wanted to get my scrapbook all in order. My scarpbook is more of pics I find of clothes I like and one day would like to try sometime. I have a friend that works at Walmart in the fabric part. They be throwing away the McCall books and all but, she puts them all aside for me and I get to pick them up. But, instead of me flipping though all those books from time to time I decided to cut out the ones I like and make me a scrapbook. Well I have 2 scrapbooks one for my sewing projects and the other one is for my crochet projects. So here is a start.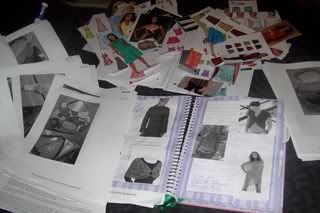 Ok I made my daughter Nesa a nice pretty pink and brown shirt. She loves her new shirt she wore it to school today. It didn't take me no time to finish this shirt.:)
Front :)due to my daughter having a liver diease her belly is a little bigger so I had to make a little extra room for her belly for the front. She hates it when her shirts are to tight.
Back :)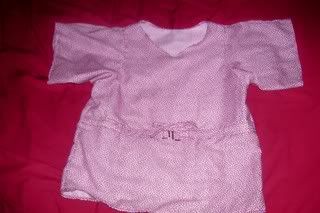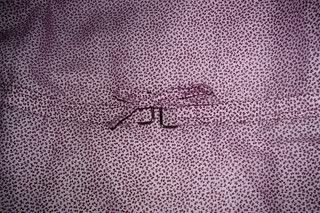 Here is a little close up on the little details I wanted to have a bigger like bow but, ran out of fabric and had to work with this one the best way I could.
Now here go me a shirt. I am always going though all my fabric and find fabric I didn't know I have so had to use this for me a nice silk shirt. Will have to wear a tank top under this shirt.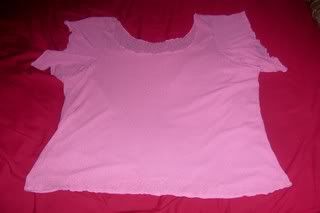 Front
Back
I am not used to making shirts with sleeves because I am always making tank tops and halter tops doing the summers so these shirts was a challenge for me I think I did great. What do you all think?
Ok did quick purse. Didn't take long.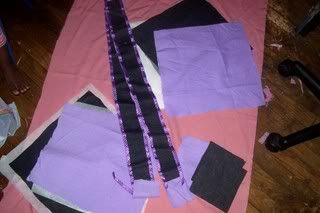 Here is the start of my purse. The cut out of the back front, bottom, strap and pockets. As you see more pics you going to see I didn't use the pockets. After my kids got around to my cutting table things was missed placed and I haven't seen the cut out of my pockets yet lol. :)
Outside the finish project
I used my sewing machine to make zig zag designs on the outside to give it more color of purple since the inside is purple. I also put a couple of rhimstones on it also.
Inside
There you have it.
My mojo week. I still have a little bit of more mojo sewing going on in me lol. Have more shirts for my oldest one and more for myself comming soon. :) But, there you have it. Take care everyone thans for stopping by.