Have to say thanks to
Mary Sarah
for nominating me. Thanks so much. I was glad and surprise to clicked on Mary Sarah blog and see I was nominated. Ok I thought about the 5 ladies I will like to nominate for Nice Matters Award. Since most of us bloggers know the same people I try to push away from people that I see was picked but, then I thought about all the people that comes to my blog and check out my blog and I thought about all the bloggers that I love read there progress when it comes to there hobbies and life so here go all the 5 people I nominate are: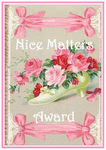 1. Is
Wanda Kay
she has been the very first to ever come to my blog and since I started my blog in January and I love reading her blog she's great. :)
2.
Riohnna
love her blog from the first time I stop at her blog shes a cool blogger friend.
3.
Sheila
OMG love her blog I am always checking out her blog and seeing her new hobbies she gets me in the mood to want to knit. Thanks again Sheila for the knitting loom:)
4.
Aurora
Love her blog everytime I go to her blog I see her handsome little boys she's a great mom and a wonderful crafter:)
5. Last nominate is a new blogger that is getting the hang of the blogging world but, is a great crocheter. I've clicked to her blog and love her work. I feel all us bloggers sometime or another needs to be nominated so I will say
Christina
you deserve it. :)
Ok there you have it.
Now to my hobbies. Still a little behind on my crocheting. I've been reading since I haven't been reading in awhile I had to start picking up my books because I am ready to start a this fall book club in October so trying to catch up on reading and making a list of all the books the book club wants us to have. But, other words. Working on my daughter Nellie shirt only have about 15% done doing it with a G hook so I will be working on her shirt for awhile. Also want to get started crocheting my mom another purse sometimes this week. Oh and on my sewing. I have a purse I am working on for myself cut it out so have to get sewing and designing it soon. :)
Girls doing ok. In the potty training mood with my 2 yr old she isn't enjoying it at all. She keep asking for her pamper but, I have to hold my ground and get her on that potty and out of those pampers. I hate potty training. At least this is my last time EVER lol. My oldest is doing great she is loving school and is getting homework she said, mom I love homework I thought to myself wait until she gets older she will not be saying that lol. She also hate that she can't take naps at school anymore she said, mom we don't lay down at school and go to sleep anymore like before. I told her the higher grade you go up to there wont be no more sleeping in school She is in K5 and there isn't no nap time like it was when she was in K4. She don't like that lol. :)
Ok time to go will post pics of my updated projects soon. :)