Hope everyone had a great Christmas I know I did. :)
Oh that's right a quick update wanted my blog readers to know that I have started a swap blog called
Swap Swap Gals
wanted to bring in the new year with a swap blog for those that love to do swaps come and join us. Don't worry it's not for you to swap every month you choice the months you like to swap but, you can read more information and rules on the swap blog.
Ok now to my post. I only have a update on the latest project I did for my daughters. I will update everyone on the projects that I want to put on Etsy in a couple of days. I want to take some better pictures on those things I will be listing on Etsy so look forward to that in awhile. I do have some finished projects on that so hopeful I can get my Etsy shop started soon.
So here is my latest project I did about 2 days before Christmas. Since I made me some slippers I decided to make my girls some slipper socks instead of slippers. They like playing so much and they tend to take off there slippers while playing I decided to do slipper socks that wont come off while they is playing. So for my first try at crocheting socks I have to say these came out ok.
Socks was on my 2008 to do list with crocheting but, looks like I got started earlier then I thought.
Feet Feet everywhere.
Starting with my 2 year old daughter Nellie feet.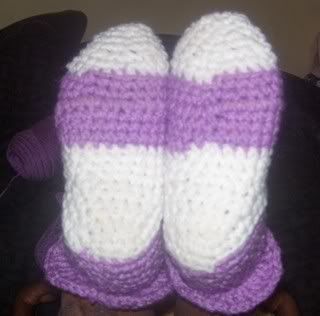 Done in Red Heart yarn, light purple, white
Hook: G hook
Stitches, Dc, Sc
Now more feet.
My 5 yr old daughter Nesa and her feet.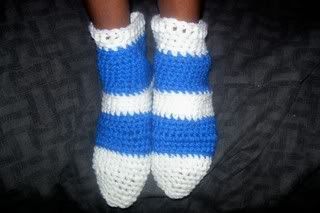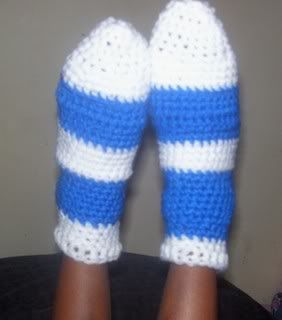 Done also in Red Heart Yarn: Blue, white
Hook: G
Stitches: Sc, Dc
I didn't follow a pattern done all by using my daughter's feet as guide. They did get tried of me after awhile but, shoot it all paid off after I was done. I started by working the hee up then fasten off and working at the end of the heel done. Now I want to give it a try by hoping to make me a pair of socks soon.
Ok that's the end of my latest for now all about feet this time lol.
Everyone have a great day, afternoon, night whatever take care.:)