WOW how time fly by so quickly 2008 is only 2 days away. Dang that means my birthday is 18 days away. Proud to say that I will be 27 years old omg how time fly by so quick.
Ok enough about that. Well haven't been to much into my crafting like I want to be due to me having friends visiting me from out of town so had to entertain most of this pass week but, I couldn't stay away from my crafting to to long. Been cleaning and remodeling to get room for a lot of new things I got for Christmas. Well I had to test drive my new sewing machine just mainly did a quick couple of projects some recons for my girls. If you look at the picture below those are what I used for my recons. One of the shirts is Roca Wear I got that for my niece but, after I put it on her she is so chubby lol that the snaps between her legs wouldn't snap and stay snapped lol. So I mainly just took the shirt and cut off the bottom part and made it into a plain shirt now she totally can fit it. Now the other recons is for my girls they always playing house and dress up you know how little girls can be. They always want a purse I've made them so so many but, they keep on coming back for more so I take clothes that neither one of them can't fit anymore and well make them a purse a backpack whatever they be wanting. A couple of chop chop with scissors and sew sew and I did a couple of quick sewing recon in about 15 minutes.
Before
After Front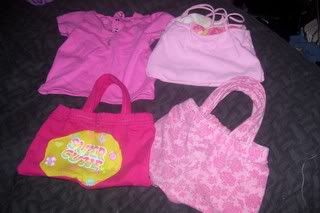 After Back
My girls will love these when they get back home:)They both gone for the holidays I know when they get back they probably can't wait to play with all they Christmas toys. Only if I can make toys I really could save money lol.
Ok haven't crocheted since well Monday, OMG aint that hard to believe lol, like I said, been entertaining my guests. I got so much yarn for Christmas that I felt today I needed to get a project going quickly. So I started on me a shirt so far so good. This shirt going to be SC rib at the bottom and striped white and light country blue thoughout the whole shirt. So far I have started on the ribbing part.
So far so good. I like working the back and the front at the same time it goes quicker for me. So I use both ends of the yarn on the skein to get my shirt started. More updates on this as I go.
I am done with 3 of my projects I want to put on my Etsy shop but, yet to do the beaded handles for 2 of the projects I will try to get that started after new years my guests should be leaving around the 2nd or 3rd so then that will give me time to really get into my crafting mood. I will surely take pictures and show you all what will be on Etsy. I have to get started back on my projects for the Pay It Forward have a lot of sewing to do for those so sorry wont be any pictures on those but, all 3 of the women I am giving the Pay It Forward to has blogs you never know they many just take a picture or 2 and post it. :)
Ok for those that don't have snow I want to send snow your way from my way lol.
Enjoy the view.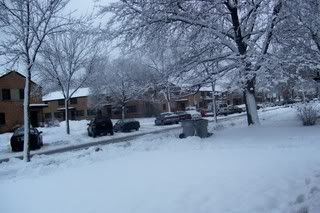 Front view from my door.
Dont' you see how much snow I have to deal with lol.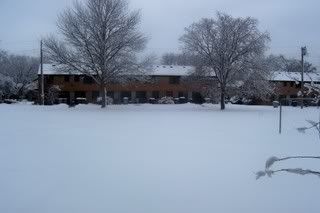 This is the back yard view. My girls like playing back here because there is a big field of snow.
To much snow aint it:)
So there you have it enjoy the snow coming your way. LOL
Thanks for stopping by to read my last post for this year. Everyone have a great New Years bring in the New Year 2008 with a scream lol:)
Have a great weekend.:)