Well been crocheting a bit whenever I can. Have a couple of projects going all at once. Some projects I wont be posting pictures for due to that they are gifts and pay it forward gifts. My gifts goes to a couple of the people that do come across my blog so don't want to give away the goodies in a pictures before they get there gift so no pictures on those. But, I can show a little wip pictures on some random thangs that I am crocheting.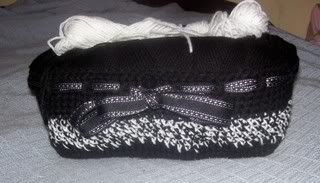 So far this is the start of a purse black and white. I have much more to go but, so far so good. The handles of this purse I am thinking about doing my own beading for the handles in black and white.
So far this one haven't yet decided if its going to be a purse or a little craft container. If I do make it into a purse this one I am deciding the same thing about putting beaded handles on it. But, pink, white of course.
That's right guess what I crocheted for ME, some slippers. I thought well I need me some slippers I am always wearing ankle socks around the house so I wanted some slippers that I made for me so I whip these up. They really are my Christmas day slippers.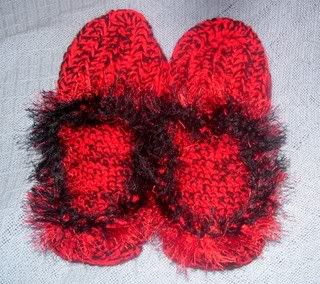 I love them they turned out great.
Aint they cute.
They fit a little on the big side that's good because I wear my slippers with socks anyway but, I like them.
Yarn: Red Heart black, and red also Lion Brand fun fur in red and black
Hook: J
Stitches: SC, HDC
Also made a small purse.
Outside
Inside
Yarn: Peaches and Cream in Winterberry
Stitches: Treble, DC, SC, HDC
Hook: H
I love how I did the handles on this pures first time doing handles like this and it turned out great.
Ohhh that's right my mailbox was falling apart today lol, well not really but, due to me getting so many gifts today that you might as well say that it was falling apart. I due a wish list on the Ville and on a sewing board, and sewing group. So those people that want to sent something as a gift to others can so I got a couple of things from my list and a couple of things that wasn't on my list but, some wonderful women wanted to send me and my girls Nesa and Nellie some things. So here is a picture below sorry tried to get everything in the picture got most in the picture I think.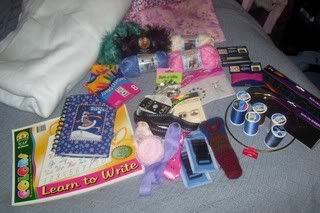 Got crayons, coloring book for Nesa and Nellie, I got a journal, couple of Bernat yarns, Lion Brand fun fur a couple of that, also Red Heart Foxy fun fur, quilting bedding, beaded fringe, glam up iron on's magnetic snaps, purse ribbons, 6 threads, craft rings, side lock snaps and more ribbons and more.
Thanks ladies, you all are the great. :)
Also I stepped back into the pass. I was cleaning out one of my closets and came across a purse that I made a long long long time ago this was back in the days lol Mainly back like in high school I believe this was back when I still was learning to sew the right way. I was looking at my purse. Looking at the sewing of my purse and lining and all I said to myself dang I came a long way with my sewing. But, wanted to take you all back into the pass. This was when I didn't know how to do magnetic snaps, zippers, or to using interfacing for the stiffness for the purse. So I did learn and caught on as time pass by. Here is the purse.
Front, oh so lovely hearts.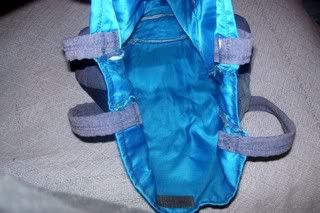 Inside
Look at the inside I don't do my lining like that anymore. This was back in my velcro days for closures of my purses. I want to redo this purse changing the lining of my purse and the straps I think I can redo this. I will give it a try. I used to love this purse I didn't carry backpack back when I was in school I thought I was better then that lol so I made big purses because I didn't like backpacks but, this one purse came in great handy.:)
So there you have it. Everyone have a great weekend and Merry Christmas.:)