I decided to dust off my sewing machine and sew up a few things today. I have been checking out all my sewing friends blogs and it got me wanting to sew. Haven't sewn in awhile and thought well let me put my hook down for a little bit and use some of the fabric I keep finding myself buying everytime I go to Walmart or to Joanne's.
So here what I got do today.
This pretty blue purse. Love the fabric so decided to make me a purse and the little small change purse to go with it. I am always changing up how I make purses I don't like to make the same shape purses all the time I change it up a bit to make it more unique. :)
My purse has one strap a silver ring that opens and close that is connected to the strap and a slive snap to help to keep the purse close.
Blue change purse has a black zipper
Purse with blue change purse
Inside purse
Change purse
Purse again
I also made my girls something Nellie has a carry along backpack and Nesa a small purse. Cute aint they lol.:) I let them go into my big containers and pick them out some fabric they both wanted the same fabric so I just whipped these up in no time.
Nellie carry along backpack as 2 arm straps it ties up to close and a pocket on the outside of the front you can't really see the pocket because the fabric is blending into each other.
Nesa purse has 2 straps that is connected to 4 square melt rings.
Both
Crochet, I wasn't going to talk about crocheting in this topic but, shoot I just couldn't hold back to long lol. So here is a update on my bolero/cardigan which I was going to make a shrap but, decided to do a bolero instead. I would have been done with this a long time ago if I wasn't stopping to do other projects so glad to say I am finally done.
Front
Back
Sorry couldn't get no picture of me wearing it my mom usually take the picture but, she's not here today she wont be over my house into late tonight and I wanted to update my blog now before I get back to sewing and crocheting but, you all get the picture to the bolero it ties up in the front. If I do get a picture of me wearing it I will surely add it to my this entry.
Yarn: Red Heart, Navy
Hook: K
Stitches: Double, single
I had lot of navy yarn left so I decided to use it with black yarn to do my mom a purse my own design I am writing this pattern as I go so incase I want to make it again I will know how it goes without me having to guess how I did it.
So far so good
Also here is a start of a circle shirt for me. I told my friend Sharon that I wasn't going to start this shirt until next month and she said, yeah right lol. She knew I couldn't wait as you all can see. But, I seen a woman on Ravelry that had on a Circle shirt her own design so I looked at her pictures the back and the front to see how she did it and I said, I can do that so as you can see I am tempting to do it give it a try. I have it all planned in my head how it is going to look and how I will piece this all together. Now I have to whip it up on my hook and hope it turns out like I have planned. It should most of the things I plan in my head turns out like I predicted.:)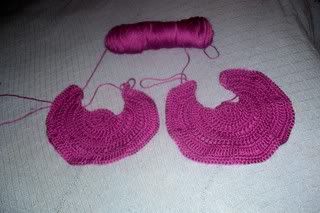 I need 2 circles in order to make it that both half circles are on both sides of my body and connect in the middle of my back and in the middle of my front. Then I will start to make the sleeves and go from there hard to explain when I am picturing it in my head.
Ok thats it for now have to get back to sewing have another purse I want to make.
I also have to finish up some Christmas shopping later or tommorrow not sure when, I guess when I get my lazy self up lol. Right now it's snowing so I don't want to get out there in that snow. So everyone have a great weekend and get crafty this week. Take care. Happy Holidays:)