Finally I can say I finished my niece's blanket and since I had a lot more yarn left I decided to make her a hat and a neckwarmer. I keep coming across so many blogs doing neckwarmers so I went ahead and gave it a try plus I am all good for a quick project. Also I crocheted a button on the neckwarmer first time doing a button and neckwarmer they both came so easy to me.:)
First want to show off the blanket that I so love and have to say I am so proud of myself it came out just like I wanted it to didn't take long to whip this up at all.
So here goes the "Pretty In Pink Blanket"
Front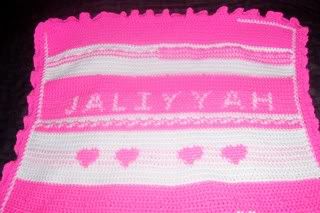 Close up on the name
Close up on the hearts
Back, look at how the back looks so clean no yarn has been cut all the yarn has been crocheted into the blanket. I wanted to keep a clean back part and not have yarn strings everywhere then have to figure out how to weave in the ends later.
Yarn: Red Heart, Pretty In Pink and White
Stitches: SC, DC for the V stitches that is on the edge of the blanket to make the ruffles and puff stitches
Hook: H hook for the middle of the blanket I hook for the bottom top and around the blanket
Ok like I said, before had some extra yarn and wanted to whip up a hat and a neckwarmer for my niece now she has a pretty in pink blanket, hat and neckwarmer.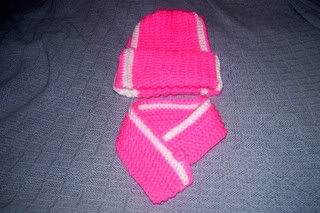 Hat and Neckwarmer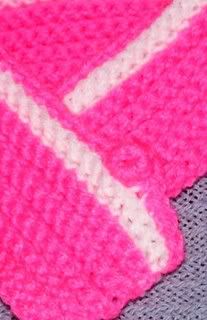 Close up on that button, aint it cute lol
Yarn: Red Heart Pretty In Pink, White
Stitches: Sc
Hook: I for neckwarmer H for hat and F for button
Ok here go a quick update on that shrap I was making decided to change it to a tie up bolero instead so go my WIP for that have to finish the sleeves will get to the sleeves today for sure. Since I have been working on blankets I have neglected to get back to my wearables I will surely finish this off because I have more wearables in mind I would like to start crocheting hopefully in January.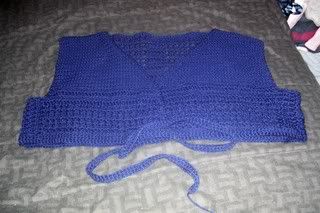 Here goes WIP picture.
So there you have it everyone my finished project and WIP project. Hope everyone have a great day take care.