I just noticed that this is my 101 post here on my blog OMG how time fly by so quickly January will make that I have been blogging for 1 whole year. OMG I remember when I first started I was like I am not going to be able to keep people coming to my blog with this sewing and crocheting stuff I be blahing about lol but, I see I am so wrong. I do this for myself as well showing off my crafty side of me plus my blog is like a flick of a album with all my crafts.
So on with the show. This weekend well Saturday morning I mainly shoveled the snow kids went to play in the snow for a little while. After playing in the snow the mop become attached to my hands when we finally came in the house. After cleaning a bit I got a little crocheting done on my mom's purse. She been asking for a purse for awhile so I decided to whip her up one. I noticed that my mom haven't brought a purse in years. Everytime I see her she has one of the purses I made from my sewn up purses to my crochet purses she says, why do I need to buy any when I know someone that can make one (ME). I was so proud of my mom the other day she said, one of her friends, friend was selling crochet scarves and asked my mom did she want to buy one. My mom didn't just say no she said, "My daughter Lesa will kill me to wear someone else's crochet items, so I will have to say no but, thanks away. My daughter crochets herself and I wont feel good about wearing someone else's crochet work." Awww aint my mom nice. I guess she knew I would have went off on her lol when she can get it done by me for free. :)
Ok now back to the show. Then I dropped off the kids at my moms got a little more Christmas shopping done. We don't have a tree this year because I either don't have room for a tree or that my girls going to take things off the tree everyday. Hoping next year I can do the tree thing for my girls but, until then they can enjoy my moms Christmas tree. So all they Christmas toys are hidden in the basement.
The rest of Saturday I mainly chilled laid back watch some TV gave my crocheting hands a little rest.
Sunday now Sunday I decided to finish my moms purse so while watching all 3 Lord Of The Rings on TNT I decided to crochet and pause my my DVR ever now and then to cook, clean get on the net you know same ole same ole. Then next thing I noticed on the second Lord Of The Rings I was done with my moms purse. So after finishing that I wanted to crochet again but, something that wont take up much time. I looked at my WIP board and noticed that I have been telling my cousin that I was going to crochet her a purse for a while so I decided to whip her up a purse as well.
So now here goes my moms purse.
I haven't shown it to her just yet. I love it I did start writing the pattern as I went but, then I fall off of writing I was so used to just crocheting that I stopped counting rows and gave up on writing it.
So here it is. Love it.
This purse is done all in one piece well the body of the purse is the back, front and bottom the straps are crochet on.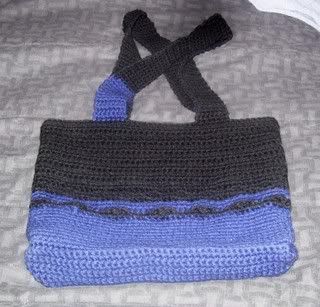 Front
Back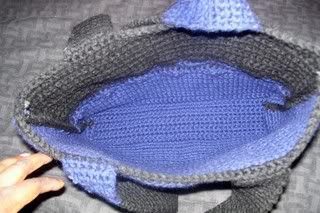 Inside, still debating to put a lining in the purse. I want to ask my mom what she think before adding it because tell you the truth it looks nice and it keeps its hold without the lining.:)
Yarn: Red Heart, Navy and Black
Stitches: DC, HDC, Treble, Triple, SC
Hook: I
Done in doubl strands to give it more of a body and shape
Ok now here goes my cousin messager bag. She's still in school and she said, she want something that will have a flap to it and go over her arm and head so here it goes. I didn't do a pattern to this but, it was so easy to do that next time I do one I will write it down as I go. This purse was done in all one piece that is what makes it so simply and easy.
As you can see below the purse also has the letter A on it meaning my cousin name is Ariel. I haven't yet given it to her but, I know she will love it she seen all the other things I done before and just say Oooooooooo I want one. So there you have it my weekend.
So here is my cousin's messager bag.
The body of this bag is done in all one piece the flap, back, front and bottom. I then attached the strap.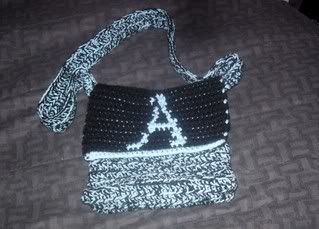 Front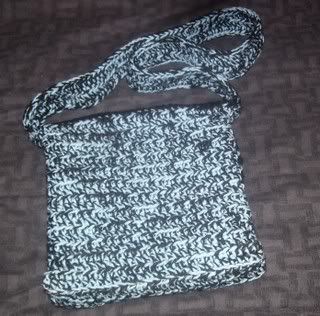 Back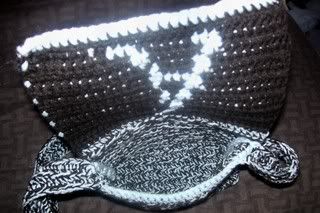 Inside with flap open
Yarn: Red Heart, Black and Light Blue
Stitches: HDC, SC
Hook: J
Done in double strands one strand black second strands blue thats for the whole body and strap. For the flap done in 2 strands black for the background and 2 strands light blue for the letter A. The double strands is to help give the bag more shape to it.
Also I am thinking about opening me up another Etsy shop I had one about 2 years ago thats when I sold purses that was sewn I did good but, I couldn't keep up with my sewing at that time due to family problems and Nesa in and out of the hossy so I sold all I had on the shop and closed it down. Now I am so thinking about doing it again but, all contains my crocheting and every now and then I can throw in something sewn up. But since crocheting is more portable I am more likely to get more crocheting done then sewing depending on my family life at that time. So if I do open it up thinking about opening it up again in January. Waiting until after the holidays. I am just thinking of all the things I should sell. Thinking about purses, headbands, hair raps, baby/kids hats, scarves, baby blankets. Ummmmm that's all that coming to mind at this time but, just a thought.:)
On to my WIP haven't been doing much with the Dora-ghan well hopeful get back to that soon. I needed a brake from crochet graphing. When you is more of a wing it gal you sometimes want to go back to your own rules lol.
Also no update on my circle shirt will get back to crocheting that soon. Probably more of an update on that this week. If I decided to do the Etsy shop I wanted to crochet a couple of things over Christmas brake.
For my Crocheter readers out there what would you like to try new with your crocheting in the year 2008?
My answer is above at the top of my blog. My goal for 2007 was to try my hands at wearables because 2006 I was stuck in the shrugs, shawl, scarf and blankets stage. I wanted to do more then the same thing over and over. I was then learning to read patterns which I so hated to read wearable patterns they just took way to much time out of me and some crochet patterns makes it harder then it should be. So in 2007 I leaped right to it started with cardigans, bolero, then working my way to shirts with short sleeves then to long sleeves so I can say I accomplished my 2007 goal. Now my list is longer for 2008 due to me seeing so much things when it comes to crocheting that I want to try so much with it and learn from my mistakes as I go. Not scared to try something new every now and then. I will leap into 2008 giving my all to my goals I set for myself.:) So watch out.
For my Knitter readers out there what would you like to try new with your knitting in the year 2008?
Learn more then just knitting, purling and casting off. To a least try to finish a scarf at least.
So there you have it thanks for taking the time out to check out my blog. Everyone have a great day and Happy Holidays to all:)