So far so good. Been working on some of my crochet work I think I am doing great for the little amount of time I have been working on my niece's blanket that I think will be called Pretty In Pink since the pink yarn is called pretty in pink. As you can see below that is what I have so far still working on some more stitches I should add to the blanket haven't yet decided on other stitches still thinking about doing some puff, custer or shell stitches so still working on which to do I don't want to keep doing single stitches I tend to get bored real quickly with the same stitches lol.
So here go the blanket so far her name is Jaliyyah and as you can see I have some cute hearts in it awww cute :)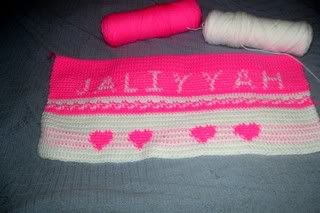 Ok Also started a little on the Dora-ghan the graph is coming along great. Just reading the graph is ok well a little hard because the boxes are so damn small lol so I am trying my best with that and hoping to not lose a stitch while I am crocheting. So below is what I have so far a little of the sun and a bit of her hair.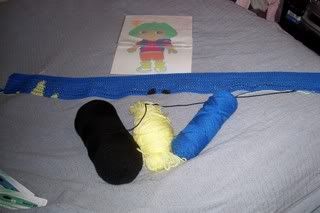 Also wanted to thank a new internet friend of mines that say I am a old soul lol. She's a sweet women that I find myself talking to every so often either on the net or on the phone.
(HUGS SHARON)
She sent me some crochet lite hooks a J and a I yay I can still work in the dark and not use the TV as my light lol. This time I have a little more light thanks Sharon you is the greatest.:) Now I have to think which hook I want to use first hmmmmmmmm lol.:)
I thought since I am doing all these big projects that I should add a quick small project to my list so thought well let me do me a scarf. Since I got a new coat yesterday. I got some Red Heart Plush in black to do me a scarf. I wanted it to be a quick project something I can do in about 30 mins or less. I was always doing the same thing when it came to scarves mainly always done like the single stitching in order for the scarf to be full so it can hold up well in the winter weather but, I decided to do something much different.
I started by chaining 133 then DC in the 4 chain from the hook. I then DC thoughout the first row in ever stitch the second row I DC in the spaces between the stitches from the first row. I kept going until I wanted it as many rows as I thought I would like. Now for those crocheter's would think that this scarf wont hold up in the winter weather I thought the same thing so after I finished I then fasten off turn the scarf on to the back I got both ends of the yarn off the skein (Double the yarn) and single crochet into every opened of the DC mainly SC in ever space to ever row of the DC the long way of the scarf.
Now it shows all the stitches looks closed up and I didn't do much to it as most people would have thought something simply yet easy and the main thing was it was quick.
Front of scarf: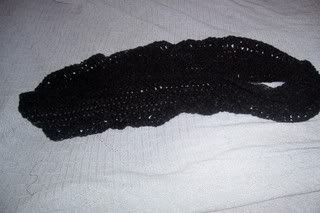 Oh so warm and I am able to wrap it around my neck a couple of times or just put it around my neck and put some of the scarf into my coat.:)
Back of scarf where the SC stitches are: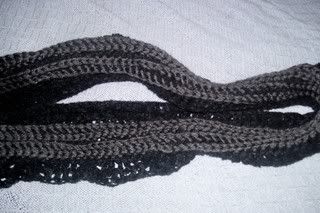 After finishing the scarf I thought well why not make a hat with my left over yarn so I went ahead and whipped up me a hat. As you can see I am so crazy about black. Well my coat is black. Oh I used the CSS yarn for the back part of the scarf to give it a little more color.
Scarf and hat:
Scarf:
Hook: L
Stitches: Dc and Sc
Yarn: Red Heart Plush in black and CSS (Caron Simply Soft)
Hat:
Hook: M
Stitches: HDC and SC
Yarn: Red Heart in black and Red Heart Plush in black
Now hoping to get a lot done this weekend I do have some house work to do. Getting a new washer and dryer Wednesday so I have to get my lazy butt up and get to cleaning up my basement. Have to throw out a lot of old toys before Christmas.
Hoping to get a little me time this weekend my girls will be gone so I have plenty time to crochet relax and watch a couple of movies. I also have plans to finish my shrap which I started over it will be a half cardigan wrap. I want to try to finish up soon.
Hope everyone have a great weekend. :)Now I have to go check out some other blogs and update some things on my Ravelry projects.:)
Again have a great weekend everyone. Take care.