Ok had got a couple of surprises this afternoon. I did the RAOK on
Crochetville
and the Holiday Wish List also. I was happy to say I got 3 gifts from my lists today. Oh for those that don't know what RAOK means it means (Random Acts Of Kindness)After opening up all my packages I was happy to say I have received 2 skeins of Caron Simply and Soft that I am so thinking about making Nellie a shirt. I also got a Cross Stitch ABC book that I so love and want to give it a try with my crocheting. I also got Not your mama's crochet book, I have this book but, shoot who says you can't have more then one book of the same book it's the thought that counts. Thanks to my FGM's and my Elf:)
Here go my gifts aint they cute in the light lol :)
Ok now on to the Lesson 101
I have received a couple of emails in the pass couple of days. I don't mind receiving them love explaining my work. But, what the emails are asking is how to do a graph so for those that didn't know I taught myself to do the graphing using cross stitch patterns mainly the X cross stitch patterns the ones that fill up a whole square. The ones that fill up a half a square is the patterns I stay away from but, by me crocheting I can't not do that.
So after teaching myself to follow the graph and change colors when I need to. I practice and practice until I got it right. I then found a website that shows you how to change colors when you is doing a graph pattern come to find out I was doing it all RIGHT lol.
I found a website where you can type in what you want and it comes up on the graph paper and all you have to do is print it out.
HERE
I also found another website that I so find myself going to so much. This website is where you can get the graph paper without having to buy it. You can print it out at home.
Graph Paper
That paper comes in handle for me when I am using cross stitch patterns that don't have graph paper. So by me printing a couple of graph papers and making my X's where I need it to be I can follow along using my own pattern.
Here is a
Cross Stitch
website that I like because it's so easy to read the X stitches and the patterns are free. You just need to transform them onto your graph paper yourself your choice.:)
So who say you cant do a crocheting graph pattern using cross stitch well if someone ever said that well I have surely proving they is wrong.
So on to the lesson.
Lesson 101
Ever box in the graph is one stitch only. Single Crochet is all you have to do thoughtout your project some people use the HDC or DC but, I didn't like how the DC looked in crocheting letters the HDC looked ok but, I like SC better.
Ok here go a quick example of a heart I put in a blanket I am crocheting.
I number my graph at the top and side so I can know how many rows and stitches I am doing. The top is the stitch numbers the sides are the row numbers. I work from the graph upside down starting on the right side of my project/blanket I am working on.
Like this below
I work from right to left then left to right changing colors where the X's are at.
So this is how that work.
What better way to show you all with my own project I am doing now.
The first step to changing color. As you can see I have the pink yarn on the hook I am working in SC so I put the hook though the stitch bring up the pink yarn then wrap the white yarn before completing my single stitch this will complete your pink yarn color and start your white color for the next stitch that will be your X stitch.
You have completed your SC in the pink and now you is ready to start your X stitch in the white yarn.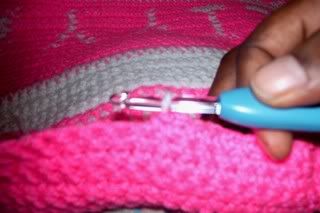 You is working with the white yarn now to make your X stitch and you have the pink yarn in front the white. Some people would drop that pink yarn but, why drop it because you going to need it again so I just carry the pink along crocheting over it with my white until I need it again.
Worked a stitch in white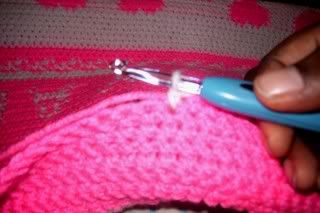 Worked another stitch in white now it's time for me to change back to pink.
There you have it I have done 2 stitches in the white and changed back to pink. If you look at that Heart Graph I had did the first 2 starting X stitches.:)
Example of my work from a blanket I am doing.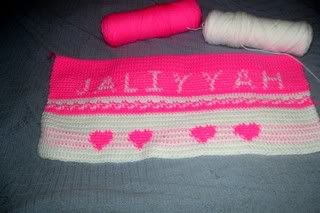 If you look real close into the white background with the pink hearts you can see the pink yarn that follows along the white. I like it that way because it makes your back and front looks clean without having to have cut up yarn all on the back part of your blanket. Cute aint it lol
Thanks for looking I hoped I helped those that want to learn to us graphing in there crocheting.:)
Everyone have a great day night whatever :)