We finally back home. My baby is ok and she is happy to be home. She had some problems with her liver diease a little virus. She also had to much pressure in her belly to the point they had to put a tube into her nose that traveled to her belly to help releave a little pressure from her belly.
Here she go here.
Awww my baby :(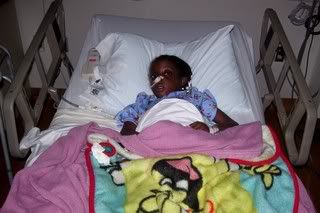 She really didn't like that. Her fever went away she is slowly starting back to eat she is scared that her stomach will start back hurting so she is starting off slowly with some applesauces, soup and lots of apple and orange juice. I am just happy she is ok her GI doctor says she is doing ok just a little infection to her liver and she also had inflammtion of her colon. Her GI doctor said, its ok for her to go home he said, its up to me when I should let her go back to school I told him I am thinking about letting her go back Thursday to give her enough time to get back into her old eatting habbits and until her stomach stop hurting completely she got some meds to help with her stomach.
I was just happy to see her smile and play again from the time we went to the hossy on Friday she barely wanted anyone to touch her now she just happy to be back home. Glad the visit wasn't long most of the time when she goes to the hossy her time there ends up being for more then a week. Glad so glad that it was just a weekend and she is all better. They ran some tests on her liver her liver is hanging in there but, now she has a little problem with her colon do to the virus but, after they took another CT scan the inflammtion wasn't completely there and wasn't completely gone. Nesa will have to have anothe CT scan and a biopsy next month then I will see where everything goes from there. But, until then she will just be a kid play and jumping like always.
Look at her all better and looking at me crazy lol.:)
My little one missed up so much when Nellie seen us she yelled and jump up and down lol. She haven't seen us since Friday and she was so wanting her big sister. While in the hossy they talked on the phone Nesa was saying mom I miss Nellie. :)
I didn't get any crocheting done I was way to upset and stressed to even pick up my hook this whole weekend. Now that my baby is all better I can go back to my hooks.
Thanks to all that prayed and kept us in your thoughts.
Thanks Sharon for calling us to check up on us we is hanging in there. :)
I surely will try to get my blog updated with a couple of crocheting work in progress soon. Want to try to finish Nellie purple shirt and get back started on my shrap.:)
Everyone take care:)