Well got a lot of crocheting done these pass couple of days. Finish one of my PIF's sorry can't show that also finished a purse for a online friend can't show that either she checks out my blog often.
But, what I can show is some latest projects.
I completed my swap for
Swap Swap Gals
but, wanted to make a couple of dish cloth for a friend of mines. So wanted to show them off.
2 of them are done in V-stitch
Here is the first one. If you want the stitch pattern for the v-stitch check out
Surprise Stitch Blog
Here is the second one. Also you want this v-stitch check out
Surprise Stitch Blog
.
This one was done in shell stitching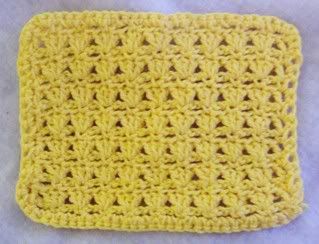 I like them they came out ok. I think she will like them also.:)
Done with Sugar and Cream
with a H-hook for all 3 cloths
Ok did my oldest daughter Nesa a pretty shell stitch poncho she so loves it got the pattern from
HERE
I've saw so many people doing these shell ponchos for there little ones that I decided to give it a try. Plus Nesa haven't had a poncho in awhile and lots of kids at school have been wearing ponchos that was brought and not crochet so wanted to make something you know more unique for Nesa. Plus she been asking me to make her one. So I whipped this up in like 1 hour wrist still hurts from doing those dang triples.
It is done with Red Heart called Cherry Dip
With a K hook
Done in Triple stitches
Front
Back
I think I will have her wear some beige pants with this with a cream shirt.
I have a little bit more of that Cherry Dip Red Heart thinking about finding a nice stitch pattern and make Nellie a scarf with hood so that will be my weekend there oh also to finish Nesa denim jacket. Nellie haven't cut that up at least not yet.
Now I will have my February busy with another swap for
Swap Swap Gals
. Everyone been voting on the next theme and it looks like All About Hearts will win. So I have had a lot on my mind for somethings I want to crochet up for that swap coming soon. So sorry there wont be any pictures on my swap gifts until my swap partner receive her gift then you all can check that out next month until then everyone will be on there toes lol. Oh also welcome to our latest Swap Swap Gals.
Katrina
and
Fatima
Ok there you have it my latest work. Everyone have a great weekend and take care.:)