Yep finally my birthday is here I can now say I am 27 yrs old OMG how time fly by so fast.
HAPPY BIRTHDAY TO ME
Ok now with my crafting show. Well didn't do as much as I had plan this pass weekend it's like I had a drain on me this weekend when it came to my sewing and crocheting. Didn't get as much done as I wanted to but, finally finished that baby blanket that I had to make myself finish this morning I now want to make a border but, yet to get started. I restarted one of my PIF's but, yet to finish. I don't know what it was this weekend I mainly relaxed, hung out with a couple of friends and relaxed but, now I want to get my butt back into gear and get back really crafting like I used to so here is my latest update not much to report but, just want to let you all know that I am still here and kicking.
Here is the baby blanket: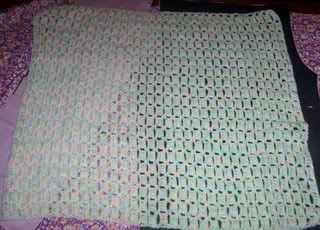 This was all I did with the denim jeans for Nesa just sewn up one side and then it been sitting there calling my name but, yet to get back to it but, want to get back to it this Friday. Due to today being my bday I will be busy all day bring in the big 27 lol oh and Thursday so hopeful this weekend I will get back to my old self. So there you have it blogger friends. :)
Ok there you have it, thanks everyone for stopping by take care:)