Ok how my weekend looked.
Well my daughter Nellie is always losing her hat or her scarf or sometimes both so I decided to do her a scarf with a hood. I had a bit of that Red Heart Cherry Dip left over from Nesa poncho so I whipped up her scarf with a hood. No pattern just found a nice stitch pattern I liked and went for it with the scarf then worked the hood from the center part of the scarf. I used Nellie head as a guide on how big I wanted the hood to be. So here she goes.:)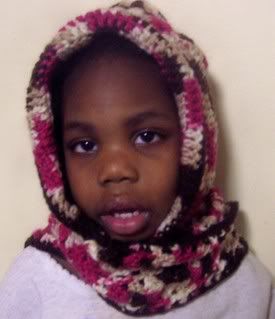 Front
After I finished and put it on her I said if this was red I would had said, Little Red Riding Hood lol.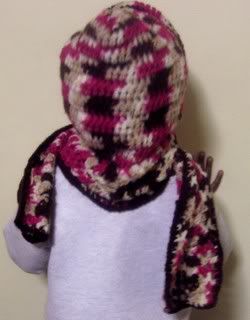 Back
Close up on scarf with hood
Close up on scarf stitches
Red Heart yarn, Cherry Dip
H-hook
Dc and Sc
I also worked on a small black and white pillow I am doing not done so no picture on that just yet hoping to finish that soon. Also decided to get back to one of my shirts so today I want to work on that most of the day. A couple of swaps for Feb I want to get started on in a couple of days wow so much to do huh lol.:)
You Make My Day Awards
, like to thanks
Angela "Riohnna"
for this award thanks a bunch I so loved coming to your blog you always make my day but, at times you do make me hungry with all those goodies lol.
I like to give this award to 10 other luck lady bloggers that makes my day and inspire me with there wonderful crafts from crocheting, knitting and sewing.:)
Here goes:)
Christina
Caroline
Laurah
Ashley
Riohnna
Sheila
Mimi
Gold
Naida
Laura
Hope you all enjoy the awards pass it along if you like.:)
Well my sewing machine that I got from Christmas wasn't hitting it off for me it was broke I only used it once then went back to my own sewing machine thinking it was just me that wasn't doing the new sewing machine right after yelling at my new sewing machine by Brothers I figured out it was the dang machine all along the bottom part where the bobbin goes it was bend to the point my bobbin wont stay in there it kept falling out everytime I started sewing so I gave up on it and took it back.
In a small way I was glad to take it back because I got to look around and find something better. I always wanted a computerize sewing machine but, due to them costing a arm and a leg I never got one but, after watching on HSN I finally found one I liked and it in my prize range. So I will have to get it. I also wanted to get me a serger to make well the clothes I make look a like pro looking. But, same thing with a serger cost a arm and a leg but, finally found one I like and so have to get it here go the Brothers CS 6000i computerize sewing machine and Brothers 10340 serger I am going to be getting they both have all the features I want and totally need. So I will be getting my sewing on. Dont you just love them lol. I was glad I didn't fall in love with my new sewing machine but, oh well. This only means I will need more fabric oh and more room in my sewing room. Always need a excuse to remodel from time to time huh.
There you go blogger friends thanks for stopping by everyone take care.:)