Ok finally I can sit down and getting typing. I've been oh so busy running everywhere for days. Entertaining guests and all but, today my friend and I decided to lay back and relax today is her last day here she heads back to Ohio tomorrow so we want to relax and watch a couple of movies I rented, The Kingdom and The Bourne Ultimatum going to be watching those after I am done blogging. Went out for New Years brought in the new year at a club near my house. We had fun didn't get in the house until after 6 am this morning "bad girl" "bad girl" lol. But, wanted to enjoy my time before my girls come back home then I can't be a bad girl anymore.
Oh to all my
Swap Swap Gals
I now have the first theme up for our swap on our blog so check it out. More information to others that may want to join is at our swapping blog is at
Swap Swap Gals
.
Ok now on with the show got a little crocheting done today. I finished up a couple of things I am thinking about putting on Etsy soon. Still debating which ones plus I have a couple more up my sleeve that I want to try to get done soon.
Here go this black purse I finally finished I may have said, I wanted to do beading for the handles but, dang I just couldn't find any beads that would work for this purse. All the ones I found that was the sizes I wanted was all in a tanish color and the ones that was black, white was all to little so instead I did these handles that worked up really quick and it holds up. All done in double strand. Also as you can see I have a pretty ribbon going though the outside of the purse oh so cute. I also have a closer on the purse that goes around a pretty button I found at Joanna. I may put this purse on Etsy.
OMG I had a lot of editing to do on this photo so it wouldn't show to much of the background for when I put it on Etsy I wanted to have a more clean like photo think this worked out well.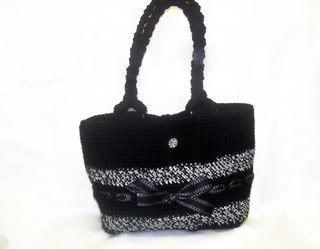 Front
Back
Yarn: Red Heart, Black, White (Double Strand)
Hook: H
Ribbon: Black/White
Button: One for closure
Stitches: Sc, DC
Also I have this pink purse I was going to also do with the beads but, again couldn't find the beads I liked. I also have a pretty pink ribbon on this purse also. The whole purse is done in double strand. Haven't decided to put this one on Etsy don't know to many people that would want a hot pink purse.
Front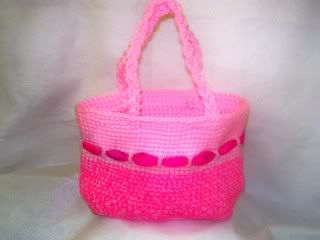 Back
Yarn: Red Heart, Pretty in Pink, Soft Pink (Double Strand)
Hook: H, I
Ribbon: Pink
Stitches: Sc, DC
Ok here I did a crochet, ribbon clutch that I like. For those that don't to much carry purses with straps I went on ahead and did this cutch. It also have a snap for closure, denim lining to give it more give and stuffness. Crocheted in double strand also. Think I will put this one on Etsy.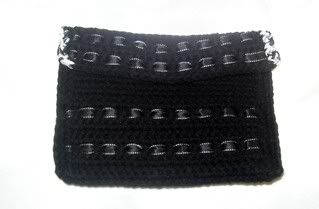 Front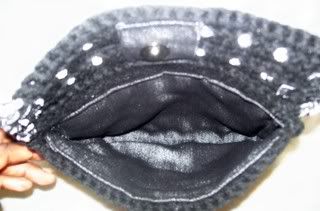 Inside
Yarn: Red Heart, Black (Double Strand)
Hook: H
Ribbon: Black/White
Button: Magnet Snap
Stitches: Sc, DC
Fabric: Lining is in denim
Ok whipped this up for a friend of mines daughter I think her daughter will like this. A purple and white drawstring bag oh so cute. I also put some cute flowers on the purse, first time doing crocheted flowers I think they turned out cute.
Since I gave myself little more practice with this drawstring purse. I have in mind to do a black, and brown one but, in a bigger size for a adult to list on Etsy.
Yarn: Red Heart, Purple, White (Double Strand)
Hook: H
Stitches: Sc, DC
Ok I whipped this up I keep finding so many people doing the crochet cupcakes that I decided to give it a try but, in a bigger size I am greedy lol I need a bigger cupcake nah just wanted it bigger because I wanted it to be a pin cushion cupcake and by how many sewing pins I have one small one wouldn't have been enough. I already have about 8 or 9 of those tomato pin cushions all around my house. So my first try here so don't laugh I think it still looks good enough to eat even without the pins lol:) just think of it as candy on top of a cupcake.
Yarn: Red Heart, White and Buff Double Strand)
Hook: H
Stitches: Sc
So hoping to try to start my Etsy just waiting until things settle down here so I can really get on and post my things on there like I want to.
Ok now I guess I am done for now ready to go back to watching some movies and eating some ice cream not the cupcake ice cream lol. So want to say Happy New Year to everyone. Take care live life.
Thanks for stopping by.