So how is everyone out there in the blogging world.
Well today I got a little sewing done mainly did a recon on a t-shirt I brought a couple of weeks ago just so I could change it up like I want it. Every now and then I will do that take a t-shirt and make it like I want it to be. I so love recons.
Before picture, Sorry about the light that makes it looks so urgh. But, I mainly wanted to change this t-shirt, I don't like collars like that in this shirt I feel like I can't breath in a round neck shirt that is so close to my throat. So me being me I had to change it up a bit.
After here. Cut off the collar opend it up a bit in the front chest part. Now much better. I can wear a black tank top under here or whatever fits what I like to wear that day.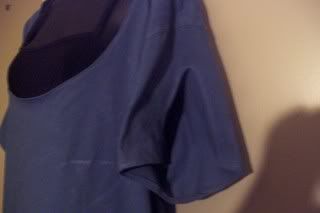 Here I also cut the sleeves shorter and also gave a bit of a slice to the sleeve.
So there you have it my recon t-shirt for ME.
Oh and by the way do you just love my display form. Just got it today was happy about it I had one but, due to kids thinking everything is theres I no longer had one so was glad to find this form online at a nice price so I just had to and order it. Plus got tired of calling my mom over to take my pictures lol. I know she got tired of it. Next to buy is me a dress form.
Ok now here go my latest sewing project oh so glad about this. My daughter Nellie is happy about it also.
I made her a night-gown she got to pick the fabric she wanted and her being her I knew she would pick pink with flowers on it. It's her gown so I just let it be.
Here is my baby girl Nellie looking oh so cute.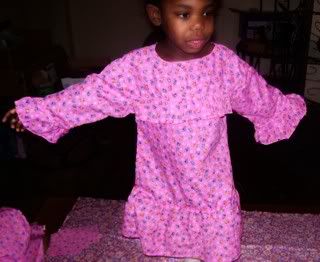 Front
Back
Front again, I wanted to cute the sleeves a little more but, she said, nooo I want to fly with it lol. So I let it be she thinks she can fly with her sleeves. :)
Now I have to do my oldest daughter a gown or some pj's haven't yet decided which but, I think she wants a gown. Here is the fabric she picked out for herself.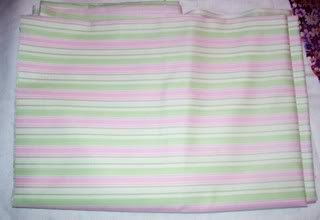 I want to get a lot of sewing done this year I haven't been doing a lot of sewing last year mainly only during the summer because to me that is when I could whip up my girls a tank top and skirt without no problem but, doing fall and winter I don't do much of clothes sewing. So that is my sewing resolution for this year sew sew sew. Learn more about sewing. I am still learning I mainly do a lot of my sewing from stratch mainly use my girls old clothes as guideline and sometimes I would use a pattern here and there but, it depends on the patterns I find that I like I am very picky with sewing and crochet patterns.
So now I have sewing and crochet resolutions that I would like to try this year so everyone wish me luck. :)
Now let me take you all to my crocheting update I decided to do a teaser like
Christina
and
Ashley
so want to tease my swap partner real quick.
Here is teaser #1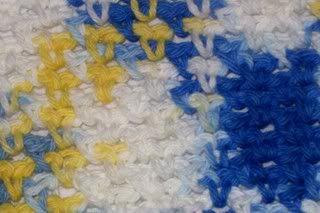 Here is teaser #2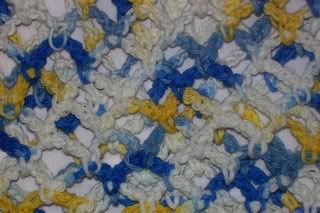 Ok now no more teasing for now.
I will update with a teaser on one of my PIF's in a couple days. I started on one of my PIF's but, after working it for a couple of hours I didn't like it so I pulled all the stitches out and now have to start over. See that is so what I love about crocheting you can pull it all out and there is no big deal. I am thinking about for my PIF #1 to use the stitch that I put up for my
CAL
surprise stitch on Saturday to see how that looks. So hoping to tease one of my PIF's on that soon.
Thanks for stopping by, everyone have a great day, night whatever. Now I am off to watch my movie War I rented. Take care:)