Ok have my week cut out for me lots of projects that I want to get done but, let me give you a brief overall on my latest projects.
Ok I did start a CAL on the Ville but, due to them thinking it was copyright laws I had to try my hand at doing it on my own. I really didn't understand that I didn't give a whole pattern also the stitch I did wasn't even the whole stitch pattern and where I got it from they made a damn error so I had to correct that myself. But, anyways enough about that for those that want to join in on the Surprise Stitch A Week CAL
click here
Oh so simple it's just for CAL only small board that isn't to hard to get around you have to register to see the CAL category. I thought by doing this CAL people that want to get out of the same ole same ole basic stitches and want to put there hands in something new but, also have others that is with them the whole way where they can get help anytime. But, anyways the first stitch I post I gave it a try whipped up a baby blanket not done yet but, here is a quick picture of it so far.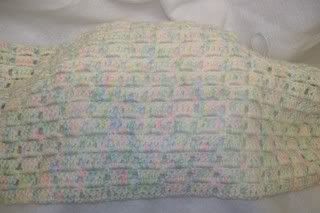 Ooooooo pretty aint it lol.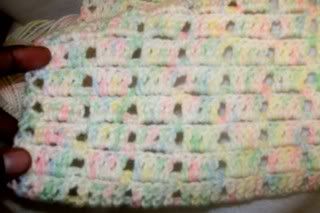 Close up
Ok now on with my next project a nice pretty crocheted bag aint it cute. I like it so much that I don't know if I am going to list it on
Etsy
oh by the way my
Etsy
is up and running so everyone wish me luck on selling.
But here go the purse.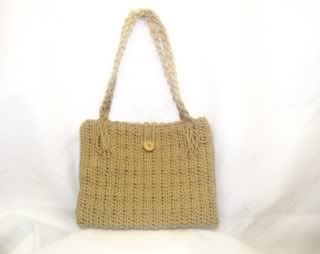 Front has a nice pretty button for closure. Double strand of course to give it a litte bit more stiffness. With 2 shoulder strap that is single crochet and then braided together to give it that rope like look to it.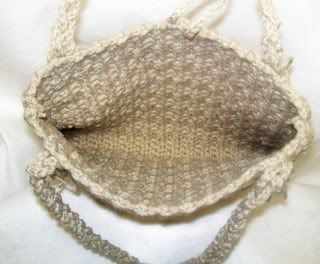 Inside
Back
I am thinking about writing a pattern up for this purse. It came out nice and it don't take long at all. A quick one day project not even one day a couple of hours I did this while watching tv.
Ok now I gave it a try with crocheting me a sock to see if I can do it, it took me awhile to get the hang of where to decrease as I worked my way down to the toes. Mainly I use my foot as my guideline kept trying it own as I went. I made it a bit wider at the top so it could be a fold down kind of sock.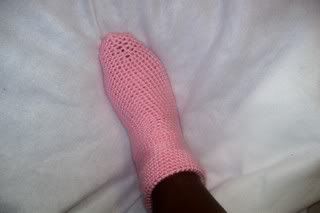 I like how this sock turned out I just have to do the second one now.
Ok here is some fabric that I will be using on some weekend sewing projects. I want to make 2 of my friends a purse each I think they will like the purses. So I have to get busy this weekend with those.
First purse/black denim/ with a marble like blackish/grey fabric for the inside lining and of course some interfacing for stiffness I like that word stiffness mainly when it comes to a purse you want a purse that has a lot of give to it. Haven't yet decided how I am going to do it just going to get cutting and see where that leads me.
Second purse/dark blueish denim/ with purple fabric for the inside lining. :) So I have my week and my weekend cut out for me.
Everyone have a great day/night whatever. Take care. Thanks for stopping by.